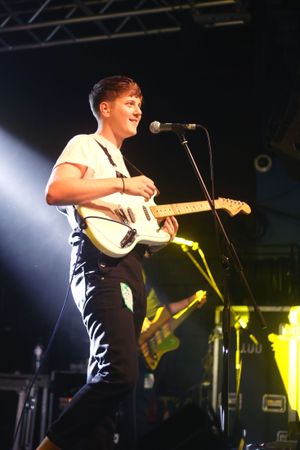 We're not the best at updating our blog, so I gathered we should start the year as we mean to go on. 
So much is going on for us at the minute, we're in the process of booking our next tour which I think is going to be our best yet. The support we had last year at our shows was insane and it was a pleasure to meet so many of you lot. If this tour is anything like the last, we'll be happy! 
We worked out that we played over 50 gigs last year, ranging from sweaty rooms in Doncaster, all the way to Leeds Arena and we're looking forward to doing it all again this time around. A Leeds Arena headline show may be slightly ambitious for us, but Tony Hadley from Spandau Ballet said he liked us, so the world's our oyster. 
We're also in the process of working on our next single and it's sounding top. Matt branded it 'The One', which is always a good sign I suppose, but that'll be what keeps us busy for the next few weeks! 
I hope you guys enjoyed the Wild video too, it was definitely our most ambitious yet. It took us  three hours per section to edit so we were so happy to finally put it out. As always, the bloopers are better than the actual video itself. I don't want to give too much away, but Jamie broke the studio and it's genuinely one of the best things I've ever seen. We'll get that out later this week and you'll see what all the hype is about. 
Right, that's all from me. 
Keep it real team, 
Chris x